In 2008, the Dakota Baptist Convention established a mission partnership with a church-planting effort started by IMB missionaries and local church planters in Uruguay.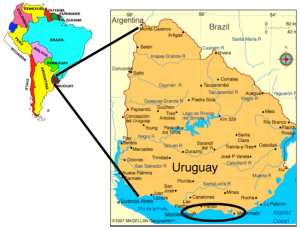 Together we envisioned a network of simple churches, called Comunidad Cristiana, stretching from the capital city of Montevideo to Punta Del Este.  About two thirds of Uruguay's population lives in this coastal region.  Since the inception of the Comunidad Cristiana vision, 10 simple churches have been established. In previous years of our partnership we have concentrated our efforts, working with church planters in Piriapolis and Pan de Azucar, two small communities in the center of this region.  In 2016, our partnership expanded to helping with church planting in some communities around San Carlos and Maldonado, Uruguay.
For our June 25 – July 3, 2017 trip, we have been asked to help with church planting in 6 or 7 communities, including a new town in the interior of Uruguay!  This new role will expand our opportunity to encourage and support the spread of the gospel in the population center of Uruguay.  Every DBC church has the opportunity to be a part of this gospel work.
All the groundwork has been done.  All you need do is join the team.  Ask the Lord to make it possible for you, then trust him and apply!
COST: $2,600
Fund Deposit Deadlines:
March 3, 2017: $250 deposit due
April 7, 2017: $2,000 total deposit due
May 12, 2017: $2,600 balance due
APPLICATION DEADLINE: March 3, 2017
Fill out the application below to register.  You can also download the Mission Uruguay Application 2017 and mail it to the DBC office.
Please do not do both – it will just confuse the office manager.
---
Questions?
Contact Steve Ford at 605-670-9250.